Haverhill Golf Club started off as a 9 hole course in 1976. The course designer was Mr Philip Pilgrem and after acquiring some new land became an 18 hole, ready to play course in 1997. The old 9 boasts a beautiful parkland layout with the river stour running through some of the holes and with mature trees is a stern test for all golfers. The new 9 holes is converted farm land which is already in excellent condition with the trees planted almost 20 years ago becoming more of a challenge to be avoided. We host a PGA in England East annual Pro-Am and with our super-fast greens attract the best professions in the East of England.
---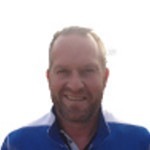 Paul Wilby - Head PGA Professional
I have been qualified as a British member of the PGA for 21 years. I have gained a wealth of knowledge and experience in coaching, retail, playing and many more facets related to the wonderful world of golf. I have been at Haverhill Golf Club since 2008 and enjoy teaching golf to all abilities. I have a method of working with golfers as individuals, not from one theory and expecting it to work for everyone. I do not over-teach, as my aim is to set realistic goals that are fully understood so you can use your practice time constructively. I have worked as a golf commentator for a member of the Brunei Royal Family and have interviewed a number of sports stars from around the world. I am currently chairman of the Suffolk PGA and Vice Chairman of the PGA in England East. I love being a Club Professional as every day is different and brings new challenges to overcome. I have fantastic staff with Head Assistant and qualified British PGA member Ollie Rush. Ollie is the only Qualified TPI instructor in Suffolk (as of 1st Jan 2015) and works with the Lee Westwood Golf School for young golfers based at Stoke By Nayland. Ollie also won the TGI East Region assistant of the Year for his high grades in year 3 of training, which he has continued to study for his Advanced Certificate in Golf Coaching at Birmingham University.
---